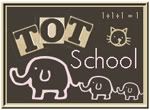 Last week was my son's first week of
Tot School
, but I'm sure we've essentially been doing some of it a little longer. If you haven't heard of Tot School, check out the website
here
, or click on the button above. They have some really great ideas!
Here are some of the things we did this week... 
Finding hidden "treasures" in a bucket of beans... 
He liked the way the beans felt on his hands!
So, then we tried scooping and pouring... 
It was much easier for him to use his hands... 
Good thing he loves to help Mama vacuum! :)
We also did a little bit with the letter "A"... 
I made a simple book for him 
with pictures of "A" things... including relatives! :)
He loves trying to find things, and pointing to them! :)
Then we played with 'A'nimals... Here he is finding the pig. 
I think this is my favorite! In case you can't tell, 
that's a shark eating a giraffe... ;)
We also played some "fill and spill" with a plastic bottle and pipe cleaners. 
He also liked destroying the bottle... 
We had a fun time learning! :)