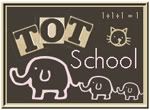 I normally try to post Tot School on Tuesday, but I was having a hard time getting some good pics of my son in action! So, Thursday it is... Here are some of the things we did in Tot School this week... We tried to do a couple of Letter 'C' activities... I didn't get around to making a Letter 'C' Book this time. He started ripping apart the
'A'
and
'B'
books that I made, so I have to find a better way to make them indestructible... I am open to suggestions! ;)
Played with
c
halk. Too hot to go outside, so we did an indoor version... If you wet some sidewalk chalk and draw on black construction paper, it looks really cool... almost glowing! :) My son loves coloring!
Matching letters. We used some foam letters (supposed to be bathtub letters), and matched them with the
Alphabet Bean Bags
... 
We almost got through the whole alphabet... We got through 'X', then my son decided spinning around was much more fun! :)
We played with gears. Stacking
c
olors, and watching them spin. He also likes to put various small animals on the main "spinner", and watch them get dizzy... 
We did some
c
ooking... Mmmm.. fried
c
hicken! :)
Putting the chicken in the microwave now...
We have "Music Time" almost every day! My son loves beating his drum! He gets really in to it too! Can you see him squatting? I guess he thinks that if he gets lower, he can drum louder! :)
Grandpa and Grandma were very generous and gave him their old toddler-sized piano! 
He loves it! :) Thanks, G & G! 
For more information on Tot School, click on the button at the top of this post, or
click here
.