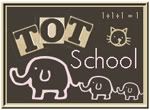 Here's what we did during Tot School this week:
I made a 'B' Book for my son, and we reviewed some 'B' items, including relatives... 
Pointing to "books"... good boy! ;)
Staying on the 'B' theme, we played with blocks... 
...then stacked only blue blocks... until we ran out of blue! :) 
He kept saying, "voo" (Meaning: "blue"). 
We also strung some beads... he still needs a little bit of assistance with this. :)
I think we are good on "Alphabet" books... I've gone a little overboard, I guess. 
He likes this alphabet book which has "puzzle" pieces. He likes taking the letters out and putting them back in. :) For some reason, his favorite letter this week was 'V' and not 'B'... oh well! 
We also played with a new puzzle (thanks Grandma!). 
Trying to learn shapes. :)
Daddy made this cool new "toy"... a washer windchime! 
I will be posting "how-to" instructions tomorrow. :)
Another fun-filled week!