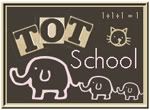 We actually did more than what is pictured here, I was having a hard time getting pics this week. Here's
some
of what we did this week:
Trying to practice scooping/transferring. I gave him a spoon, some kid chopsticks, and some tweezers, but he preferred using his hands. He liked putting the pom poms in the cup and taking them out of the cup. :)
We also tried sorting colors, but he was getting frustrated with that, so I just let him keep transferring the pom poms back and forth... 
I could tell he was done with this activity when he piled everything back up on the plate. Good job cleaning! ;)
The stickers were a big hit, as always! He still needs a little help peeling them off the backing, but he is a pro at sticking them! 
He loves putting them on his hands too! :)
For more information on Tot School, click on the button at the top of this post, or check out Carisa's blog at
1+1+1=1.