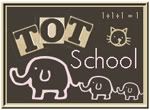 We had a very busy week, so here are just a few pictures of some things my son did this week:
He started an art class and a science class this week. I was unable to get pics of his art class... Here are some pictures of activities from science class. He learned about cause and effect. This is a tub of sugar that they could "paint". He loved watching the designs he would make in the sugar. :) 
He loved this ball toy! Basically, you put a ball in one of the holes, and it goes down a tunnel to the bottom. This part of science class was the most enjoyable for him! 
This was also fun, and a creative idea too! An old coffee canister made into a put and take toy. He would push blocks or other small toys into the cut open lid! 
And, some pouring... A big tub full of rice puff cereal, old yogurt containers, and measuring cups. He loved pouring, but is not very skilled at scooping yet. 
He also had some fun with friends at a party on Saturday, and celebrating Labor Day on Monday. :)