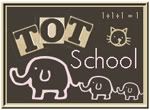 Here are some of the things we did for Tot School this week: 
I printed one of Carisa's coloring books from
1+1+1=1
. We chose the Brown Bear, Brown Bear one. I was trying to have him match the colors of the animals in the book, but he just wanted to color! :) 
Coloring the bear brown... 
Coloring the frog green... he paused, then started "jumping" like a frog. :)
Trying to learn the alphabet again... this time with the help of his new toy hammer. "Pointing" to the 'A'... 
Stacking his nesting blocks... and trying to learn some shapes.
I found some more printable coloring sheets at the
Fisher-Price
site. They also have some cute online "games" for all ages. 
Unfortunately for you all, I don't post pics of his face--I'm a little over-protective! But, his foot was looking mighty cute as well! Here he is having fun with Daddy and the parachute! My hubby is swinging him around while he lays in the parachute like it's a hammock. He also loves to go on a "parachute ride" around the house... he sits on it while we drag him around. 
It was another fun week! This upcoming week will also be fun because I enrolled him in some community classes--art, science, and gym! I hope to have some cute pics up next week! 

For more information on Tot School, visit Carisa's blog by clicking on the button at the top of this post. :)